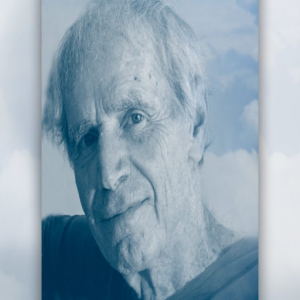 Gabriel Bensimhon was born in Sefrou, Morocco, in 1938, and came to Israel with his family at age 10 around the time of the establishment of the state. An author and filmmaker, he studied literature and Biblical studies at the Hebrew University of Jerusalem and later at the Sorbonne, where he received a PhD in theater and film studies. Bensimhon taught at Tel Aviv University until 2006, in the departments of film / TV and theater arts. He has also been a visiting professor at UCLA, USC, NYU and Cornell University. He is now Professor Emeritus.
Bensimhon has published plays, screenplays, poetry, short stories, novels and a book on the Fellini's cinema. His play, A Moroccan King, produced by Israel's Habima National Theater, won the Lieber Award for Classic Jewish Drama (1978) and has been translated to English and French. "Waiting for Gary Cooper" was published in Hebrew in 2013 under the title "Girl in Blue Shirt," and immediately became a bestseller. sold more than 50,000 copies and won a "Golden Book" from the "Israel Books Association".
Some of his works:
Moroccan King (1980). Play in three acts.
The Messiah (1980). Screenplay.
Homecoming (1990). Documentary film.
Jerusalem in the Cinema (1995). Collection of scholarly articles.
Walking on Water (1997). Novel.
Absalom (2009). Play in three acts.
A Woman with Three Breasts: Women in the Cinema of Federico Fellini (2004). Academic book.
Girl in Blue Shirt (2013). Novel.
The Last Moroccan (2016). Novel.
Strangers (2018). Novel.